2-in-1 Hustler boom sprayer handles fertilisers cutting costs by up to 60% for the equivalent pasture growth
Published 20th December 2020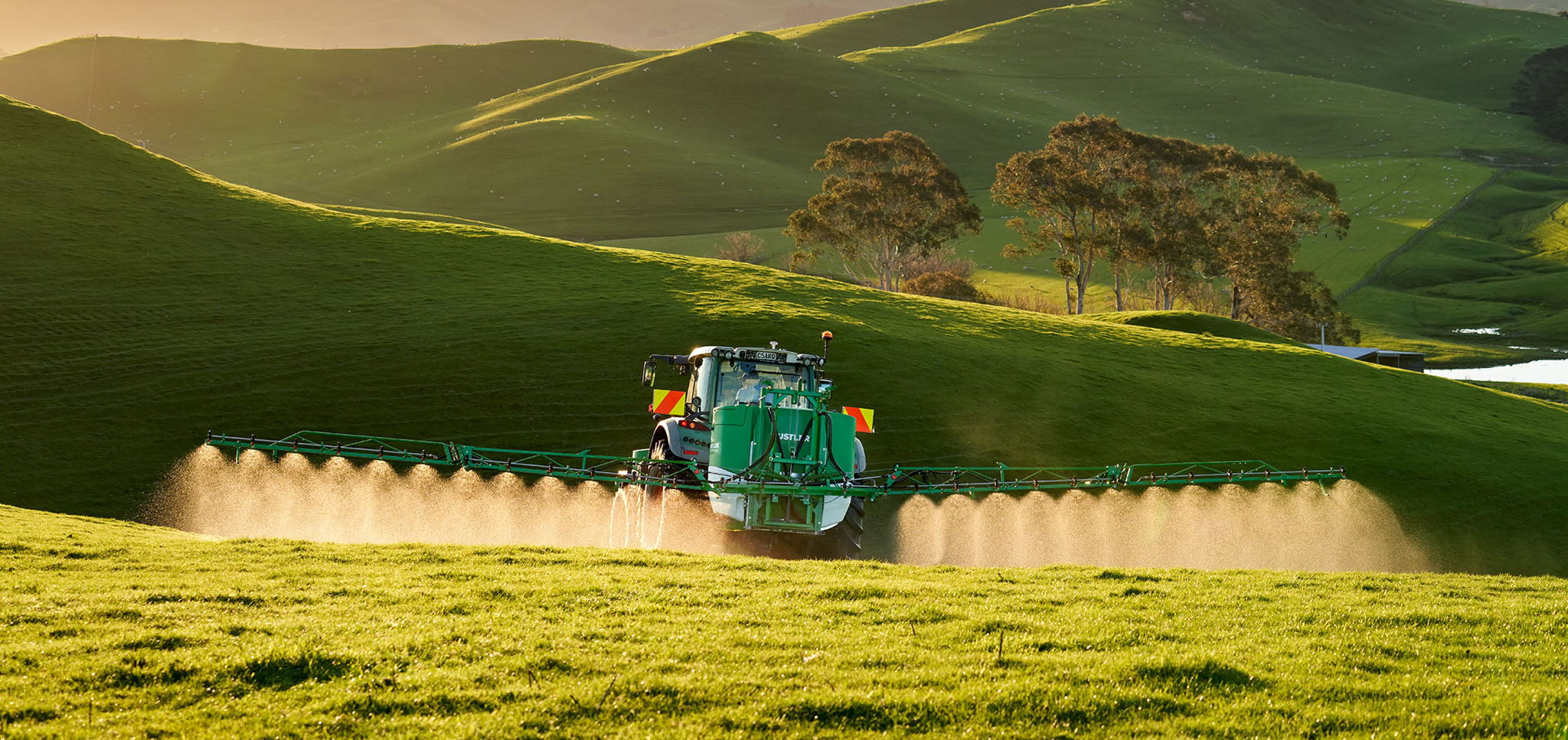 Are you a grass-fed or pasture farmer/rancher? Many sprayers on the market cannot apply fertiliser and other products!
Introducing the new Hustler's Applic8r sprayer range, the ultimate 2-in-1 spraying tool, that can be used not only for conventional crop spraying but it is designed to fill the role of the conventional fertiliser spreader in a sustainable grass-fed operation. This fertilizer Applic8r will have you slashing your fertiliser costs as much as 60% while at the same time sustainably improving the soil structure and pastures on your farm.
With the toughest design on the market, unique best-in-class agitation and mixing, user-friendly low profile and an innovative modular design that allows ou to customise your sprayer to get exactly what you need and make the most of your budget, Hustler's Applic8r boom sprayers have got you covered. 
Applic8r is loaded with practical features that help you get the job done quicker. It's got quicker tank emptying, a deep sump that lets you spray on steep terrain, a ViziGauge™ that is visible from both the tractor seat and the ground, an optional QuickFlush™ kit that lets you clean the sprayer in less than a minute, and a handy toolbox with plenty of room for spare nozzles, filters and the controller.
Careful attention to detail, smart chassis/ tank/pump integration has allowed Hustler to produce the toughest and most compact sprayer available today that no longer needs to be parked on a pallet. And has a built-in SkidPlate™ protecting the vital parts from common obstacles faced when spraying.
Utilising the lastest computer-generated flow simulation we've created the perfect flow of liquid within the tank and combined with our MixMax™ technology and ErgoMax™ induction hopper, you can be assured that your solution is mixed and stays mixed.
Applic8r utilises space wisely with an ultra-low profile design. Filling from the ground is quick, safe and easy and with the spill catcher no longer do you have chemical.
down your front. A unique CoupleUp™ system makes connecting to filling stations or filling out of a creek with the Applic8r pump a snap. And everything you need is handy at the left hand side.
When it comes to booms, you're spoiled for choice! From 6 to 14m, manual and hydraulic folding, from our proven DuraBoom and SonicBoom range to our all-new EagleTech Boom to choose from. Optional bi-directional hose reels and spray guns can complete the customisation of your very own Applic8r. Need to go boomless in some of your paddocks, just add an optional nozzle kit up to 14-metre swath width.
MODULAR DESIGN
Applic8r's modular design provides the widest range of configurations in its category. Choose from a wide range of optional time savers fitted as and when you like or your budget fits. The SlickFit™ spray valving system, lets you choose how you'd prefer to control your new Applic8r.
… All backed with the Hustler 4-YEAR WARRANTY – another industry best for peace of mind, knowing there are backup and support that has been well proven for 60 years.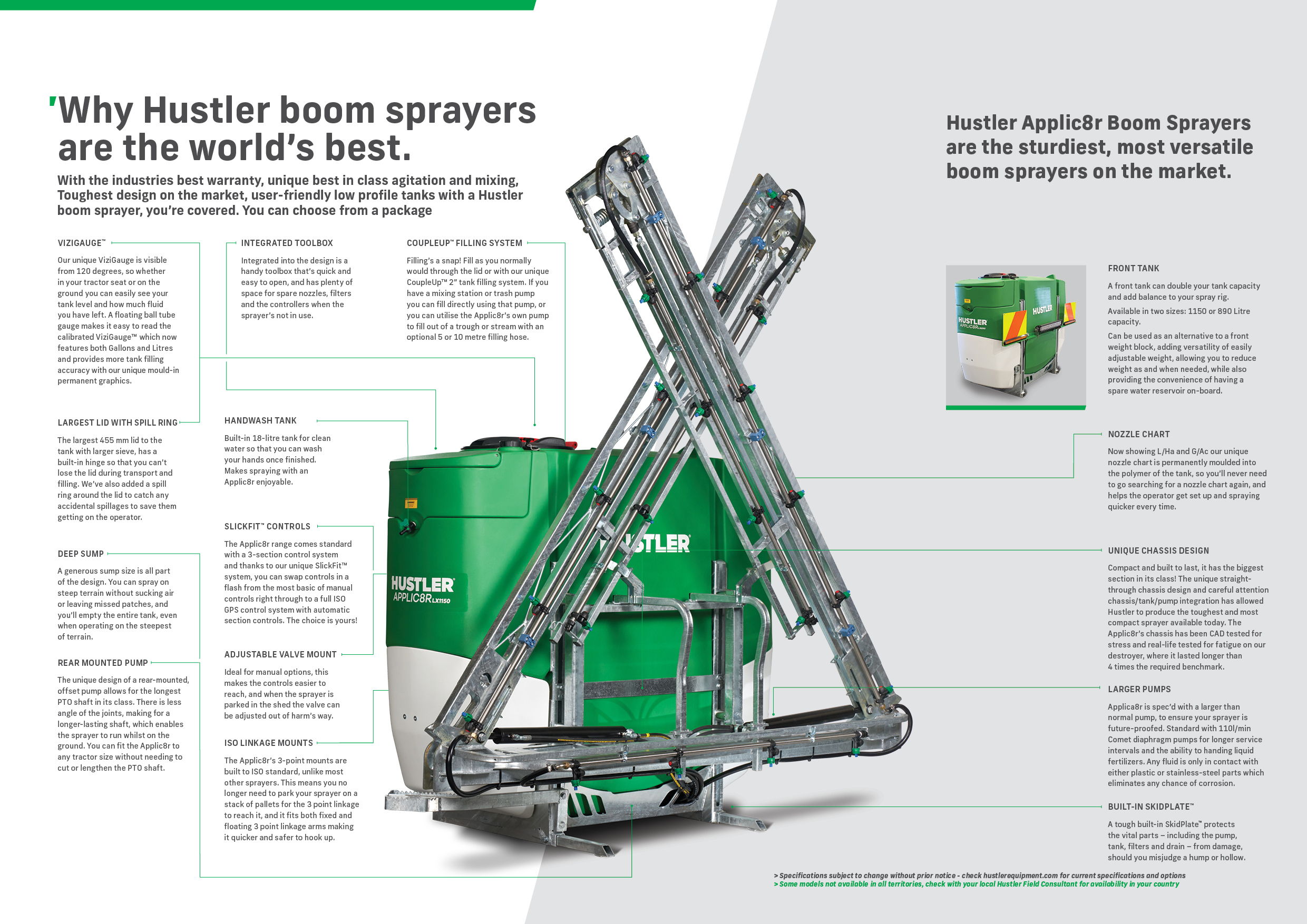 Hustler invested more than 10,000 hours of development and testing into Applic8r prior to release, and you can customise yours to suit your exact needs with our online configurator …
Customise your own Hustler sprayer
… Or ask your local Hustler field consultant to help you build your ultimate sprayer!
View our other articles on our website here