A tiny change for a big cause.
Hustler Equipment & Gendore Tractors and Machinery Leongatha support the McGrath Foundation.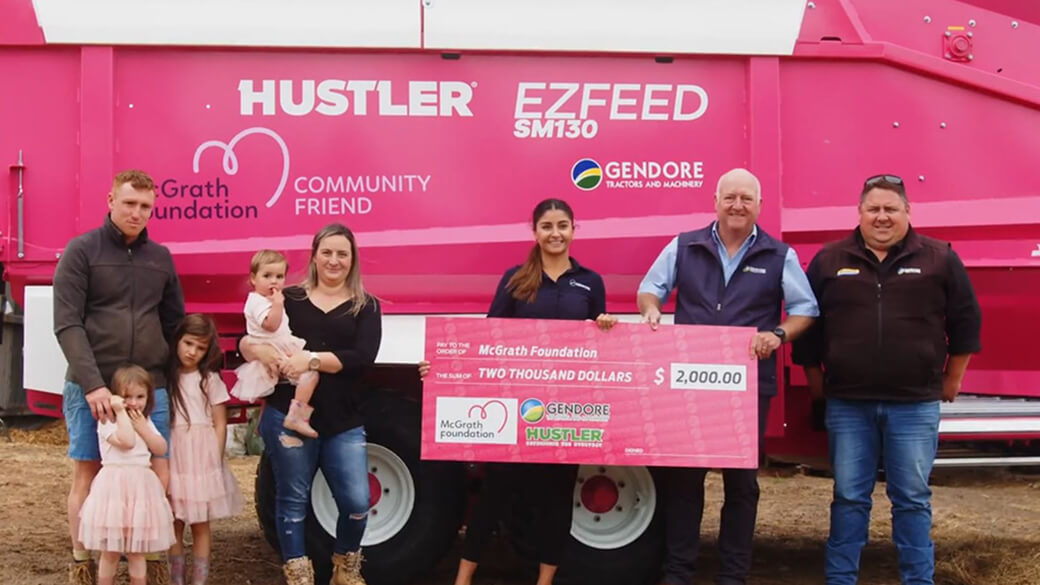 Hustler Equipment & Gendore Tractors and Machinery Leongatha are thrilled to announce that the Hustler EzFeed silage wagon Pink special edition specially made in support of the McGrath Foundation arrived safe and sound "across the ditch" in South Gippsland from Hustler Equipment's factory in Hastings, New Zealand.
The Hustler EzFeed silage wagon Pink special edition has been delivered at Travis Thomas and Penny Massaro's farm, Mopen Dairies.
Brett from Gendore Tractors & Machinery Leongatha is telling us the whole story behind the Hustler Pink EzFeed silage wagon and why a tiny change for a much bigger cause is always worth it!
Mopen Dairies, owned and managed by Travis Thomas, Penny Massaro and their three little girls is located in South Gippsland, Australia near the town of Leongatha – about 135 kilometres (84 mi) south-east of Melbourne.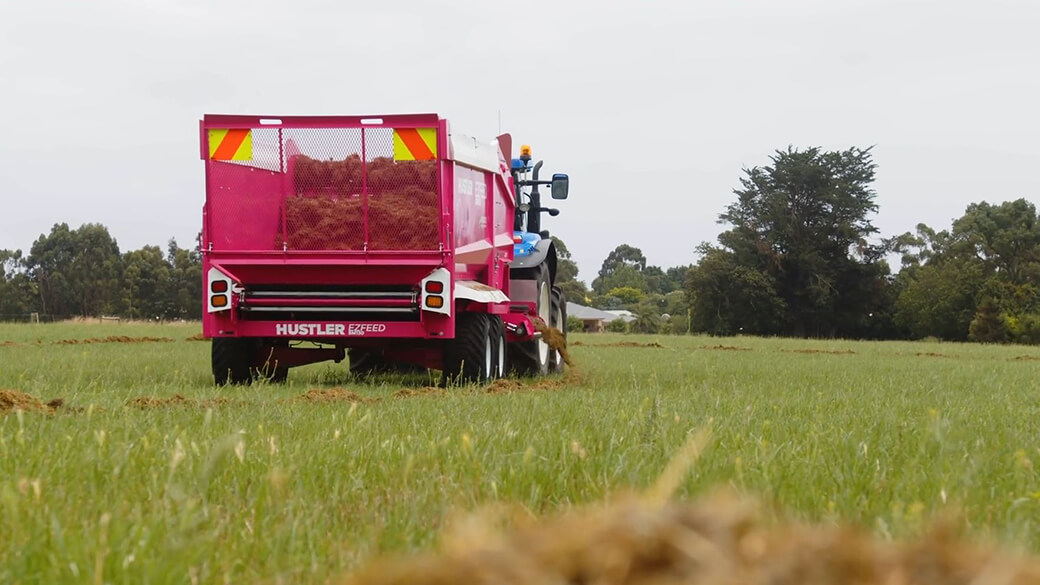 Travis Thomas contacted Brett Charlton from his local dealership, Gendore Tractors & Machinery, because he was looking for a reliable solution to feed out pit silage directly onto the paddock ground and in the bunkers of the feedlot he is getting built on the farm.
Why choose the Hustler EzFeed SM130 silage wagon?
Brett told Travis about the all-new EzFeed SM130 silage wagon Hustler was about to release into Australia.
The Hustler EzFeed range embarks several features that can't be found on other machines on the market today such as:
100% Roller Chains | Industry First
 EzFeed is the first wagon on the market to run a 100% roller-chain design to overcome constant adjustment, fine-tuning and are often slipping or breaking of a traditional conveyor belt. Massive twin 12,000lb roller chains on all floors, increasing service life, reducing chain stretch requiring fewer adjustments, less wear on sprockets and a positive engagement. 
Larger hydraulic drive motor and sealed gearbox
Hustler used their proven sealed reduction gearbox on the bed floor to provide more power for bigger loads, less servicing for longer service life and fewer adjustments compared to other drive systems. Plus, they're neatly tucked out of harm's way.
HD Puckboard floors are slippery, durable and extremely tough. 15mm (0.6")-thick bed floor and 15mm (0.6")-thick cross floor for longevity.
Watch Hustler's 60 Seconds of MiNT for more information.
Hungry Boards | Industry First
Virtually indestructible our replaceable roto-molded hungry boards can take a beating from your front-loader without turning to splinters or dinging up your nice new EzFeed silage wagon. Another industry first from Hustler, while reducing downtime.
TwinFeed | Industry First
The first silage wagon to feature left or right-hand feed discharge for more feeding versatility. And with 5 positions for the discharge floor allows for easy setup when feeding into troughs. Coming soon is an electric in-cab controller option for on-the-fly feed direction change and hydraulic side-shift.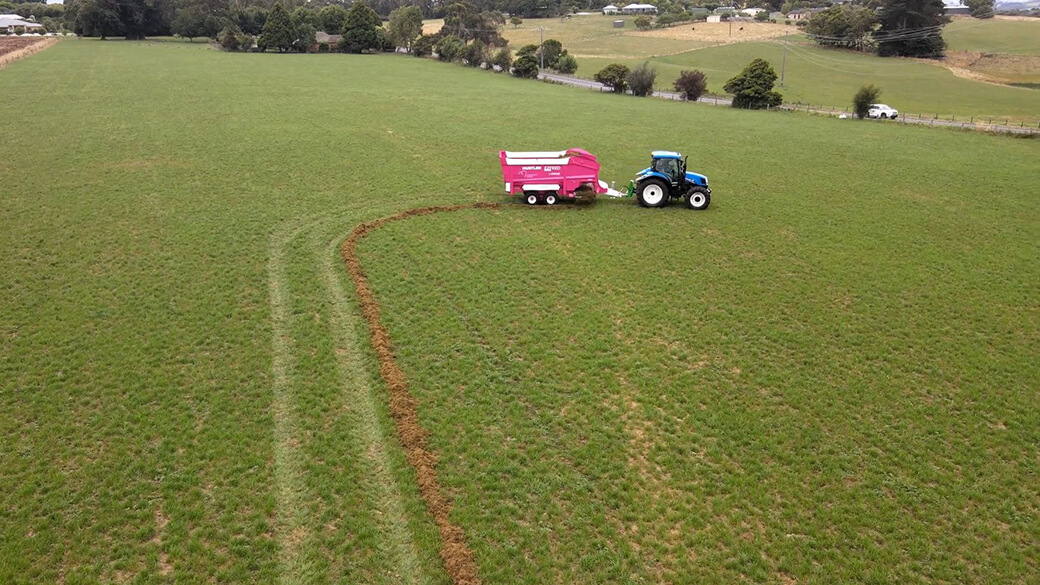 Travis was convinced that this machine was ideal for his operation, except for one tiny detail: he would sign off the deal only if the machine could be delivered to him in bright tinkle pink colour. At first, Brett admits that he "thought he's sort of having a lend of me" – but Travis was dead serious! With his wife and three little girls at home, Travis wanted something that reflects the girl power spirit of the farm and the ladies were thrilled at the idea of having a pink piece of machinery.
Hustler & Gendore support the McGrath Foundation
Jordan Cornes, Hustler sales rep for Australia, even though surprised by the request at first, decided to make it happen as a one-off deal as the case quickly took on a greater dimension with the involvement of the local cricket club (OMK Cricket Club) through the Pink Stumps Day fundraising event and the McGrath Foundation. It was decided that the wagon, in addition to feeding the cows (and ultimately, the world), would also be the vehicle for an admirable cause – breast cancer awareness. Indeed, Mopen Dairies is right on the highway and the wagon will get great exposure for people driving past.
"We thought it'd be a great opportunity to get in with the McGrath Foundation and make a good cause of it," Brett concluded.
To see and embed the video, visit:
​https://hust-equipment.wistia.com/medias/0ljt6wzcmn
For press interviews, photos and information, please contact:
Lola Aubert
​[email protected]
​028 409 5467
Visit our website here to find out more about Hustler's innovation history.